Notice of Data Incident
Overcoming the Silent Challenge
Incontinence solutions for an active life
Celebrating aging and the benefits of active living at any age, Active Aging Month showcases the capabilities of older adults as fully participating members of society. This campaign also spotlights role models that lead the way. Learn how you can join with thousands of Active Aging seniors to help change the way we age.
Overview of conditions
Incontinence is one of the few conditions that significantly impact ALL seven dimensions of wellness.

Domtar Personal Care has developed a program to help improve the health and wellness of individuals living in Active Aging communities through proper incontinence management. Through our partnership with HDIS we now offer FREE assessments and FREE samples of incontinence products to residents in your communities. The average person experiencing incontinence for the first time goes through significant trial-and-error, costs, embarrassment and many a leak or two before finding the right product. We want to help your residents through this challenging time. The information and resources below will help your team navigate the challenges your community members face, and provide a solution to help improve outcomes and keep your community members engaged and ACTIVE!

What we've seen in Communities
After launching our program in a number of communities across the country, we've noticed similarities in the challenges that the communities are facing. Most evident is the lack of knowledge on incontinence and the prevalence of the condition as a whole. It's likely 50% of community members are dealing with some level of incontinence. Here's how your community can assess and offer guidance:
Programs to help answer questions on bladder or bowel leaks, because community members are open to talking about their condition.
Train maintenance and cleaning crews about warning signs that someone may be struggling.
Offer product samples or information in the fitness center or common areas for those struggling with urge incontinence.
How we can help
Retail vs. Professional:
One of the biggest challenges your community members face is the confusion at the shelf or online. There are so many product types, sizes, fits, brands and colors. How do they choose? They don't know what to choose, and they don't want to be shopping the aisle in the first place!
As the largest manufacturer of absorbent hygiene products, we know the difference between the products at retail and the products offered for health care. When they go to a retail shelf, they're paying for a fancy bag and an expensive marketing campaign. When they order a professional grade product, they're paying for comfort, absorbency and discreetness. Our Personal Care Experts can help your residents navigate the different product types, fits and absorbencies to get them in the right product… the first time.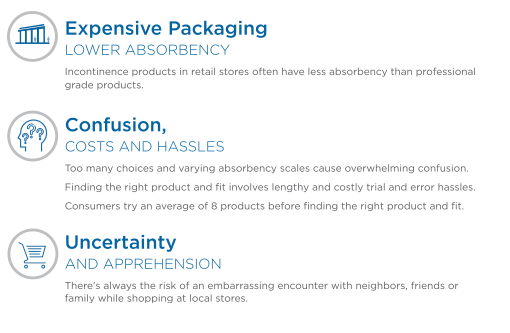 Better outcomes through better sleep
What many people don't realize is that incontinence can be a catalyst for falls. Imagine waking up from a deep sleep and needing to use the restroom, you're disoriented, can't move quickly, and are trying to make it to the bathroom safely. The process of hurrying to the restroom can be a risk and if the person doesn't make it, the risk of slipping and falling on urine is a major issue.
In collaboration with the University of Pennsylvania, we conducted a clinical study to show the impact of using a premium, health care incontinence product on sleep and outcomes. The results were powerful — with residents receiving 5-6 hours of QUALITY sleep per night. In addition to the extra sleep, there were many secondary improvements as shown below: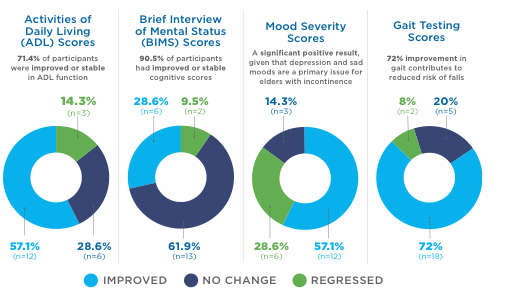 Downloads: